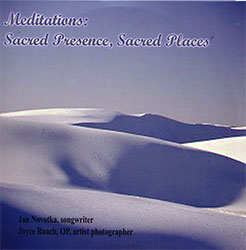 "Sacred Presence, Sacred Places" is the second meditation DVD created by Jan and Joyce. The combination of Jan's music and Joyce's photography touch a deep place within making this perfect for retreat work, spirituality groups, parishes, community gatherings, and personal prayer. At the request of our viewers we have created longer individual meditations, including a blend of vocals and instrumentation.
Words and music: Jan Novotka
Artistic Photography: Joyce Roach, OP
Cover Art: Joyce Roach, OP
Technical Engineer: Tom Harmon
Cover Design: John Meyers, Anarchy Digital
Manufactured and printed by Alpha Multimedia Group, Inc.
©2008 Jan Novotka & Joyce Roach, OP. All rights reserved.